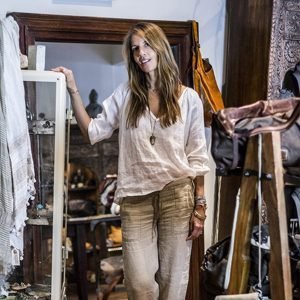 Robindira Unsworth is a Northern Californian dreamer and designer who creates unique, exotic handmade jewelry at her studio in Petaluma, California. Deeply inspired, Robindira's designs make women feel beautiful and powerful.
The daughter of an independent filmmaker and a clothing designer, Robindira's design sense was formed at an early age. As a child, Robindira spent her afternoons in her mother's atelier….sorting buttons, color coordinating her mother's vast collection of fabrics and laces and reading countless issues of Vogue and Bazaar, dreaming of the days when she would be grown up enough to wear runway fashion. When Robindira finished school, being unconventional like her parents, she chose a different path for her life—instead of pursuing a career that she was familiar with, she chose to work in social services. For many years she worked with diverse populations such as AIDS dementia patients and adults with developmental disabilities. She learned to truly appreciate the strength and beauty of the human spirit and the amazing resiliency of the people around her, and in the process found the desire to create. She describes her first foray into design as a very unexpected gift that has had a profound effect on her life.
While not in her design studio or at one of her stores, Robindira can be found planting in the garden of their 1858 Victorian with her daughter India, or relaxing with her husband under their ancient wisteria vine.