A Love Letter Through Jewelry
We're gathered some of our very favorite tokens of strength, resilience, and connection to share with you; a love letter through jewelry, from us to you.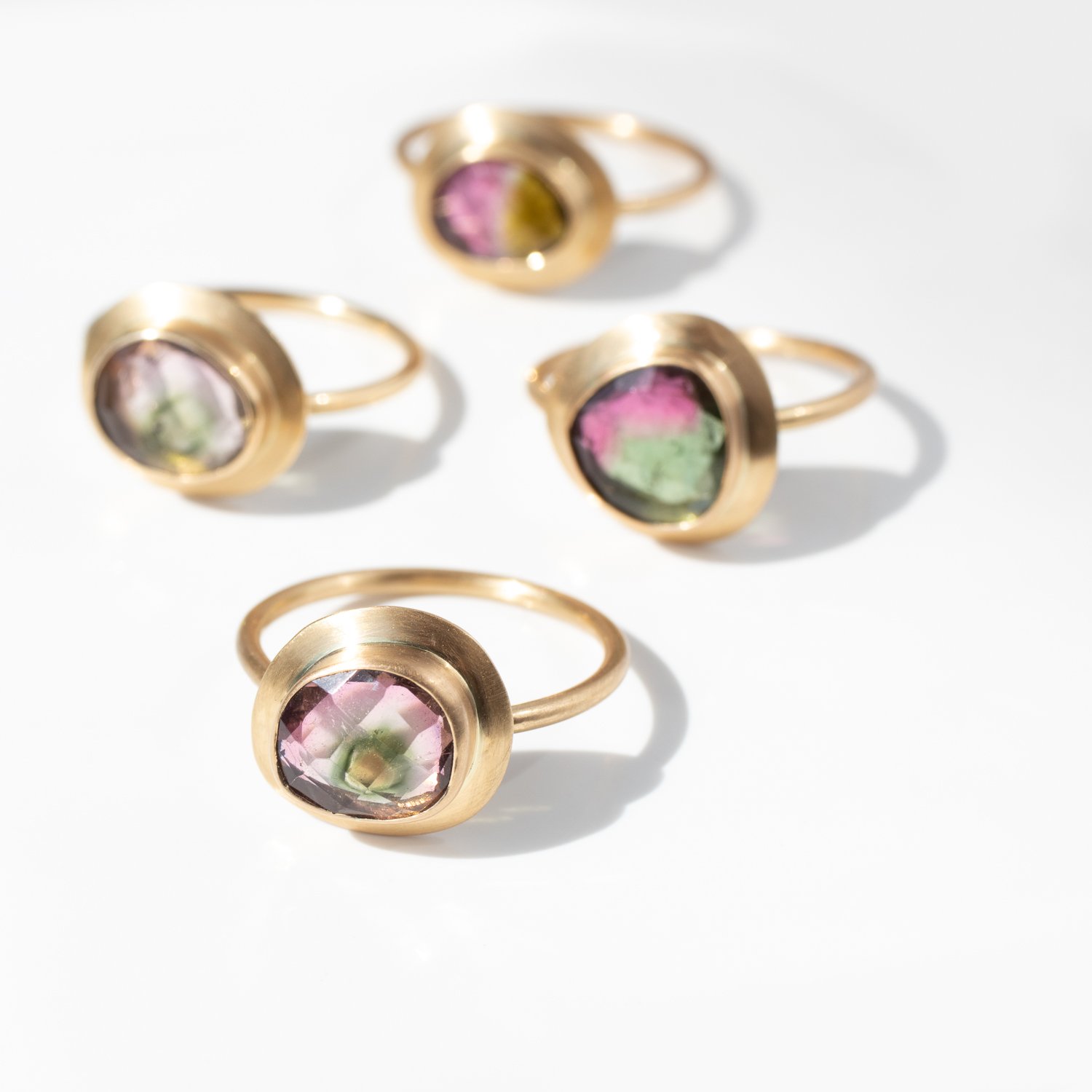 Watermelon tourmaline is said to be associated with the heart chakra, allowing its wearer to be open to accept love. We love how these sweet rings by Margaret Solow shimmer in the sunlight with fresh pink and green hues reminding us to celebrate love of all forms.
This necklace by Lulu Designs is meant to be worn as a lovely reminder to channel your inner strength. Featuring lots of intricate details, it exudes other-worldly beauty and is the perfect dose of everyday golden glimmer.
This versatile bracelet by Popvibe is adorned with hematite, brass beads, and sparkling crystals…the perfect piece to layer and wear every day. Hematite is believed to be a balancing stone, and we love the idea of putting this bracelet on as a daily reminder to create space for balance…for work and play, for sound and silence, for activity and rest.
Moonstone is believed to hold the power of mystery and is a talisman of the inward journey. It is thought to soothe the mind and provide emotional ease and balance. Wear this Jamie Joseph ring as a daily reminder to take a deep breathe and nurture a sense of inner peace.
Inspired by the magic of fairy tales and a childhood full of adventure, Lene Vibe's work is like taking a romp through an enchanted forest, and this little butterfly has captured our minds and our hearts with its whimsy beauty. Made by hand from start to finish, it offers its own unique charm and reminds us to foster individuality, resilience, and transformation.
Each piece of Atelier Narcé's work is an intimate translation of ancient wisdom and classical beauty. The Prophetess Ring takes inspiration from a painting in the Galleria Borghese in Rome, Domenichino's Cumaean Sibyl. It features the face of a prophetess: a woman who knows how to read the signs and symbols of the present and applies them to the knowledge of the future. Gorgeous baguette diamonds burst from her face like rays of light… wear this ring as a symbol of feminine wisdom and a reminder to surround yourself with light.
What do you dream of? Who holds a piece of your heart, inspires you, or makes you smile? Designed by Monica Rich Kosann, these lockets are a sweet home for your most precious words or photos; carry them with you always so you may keep your most cherished treasures, memories, and dreams close at heart.
Hand-carved by Hannah Blount, this little lady exudes a calm aura and makes for a sweet addition to your ring stack. Wear her as a reminder that you're not alone, and that we're all in this together.
With love,
All of us at NEWTWIST
P.S. Explore more jewels that inspire us here.
Photos by Laura Barton
Similar posts