Get to Know Our Artists: Misa Jewelry Q&A
The newest collection from Misa Jewelry has us dreaming of the sea. From waves of diamonds to sweet opal petals that reflect a rainbow of colors in the sun, Misa's dreamy designs are entirely hand-sculpted in her Los Angeles studio.
We love showcasing your beautiful, handcrafted collection at NEWTWIST. Can you tell us a little about what drew you to jewelry design and how you got your start?
First of all, I LOVE working with all of you at NEWTWIST and each of you is sweet as can be. My love for making jewelry started very young as a teen when I took metalsmith classes in my hometown of Honolulu, Hawaii. From the second I held a torch in my hand and started soldering, I was hooked.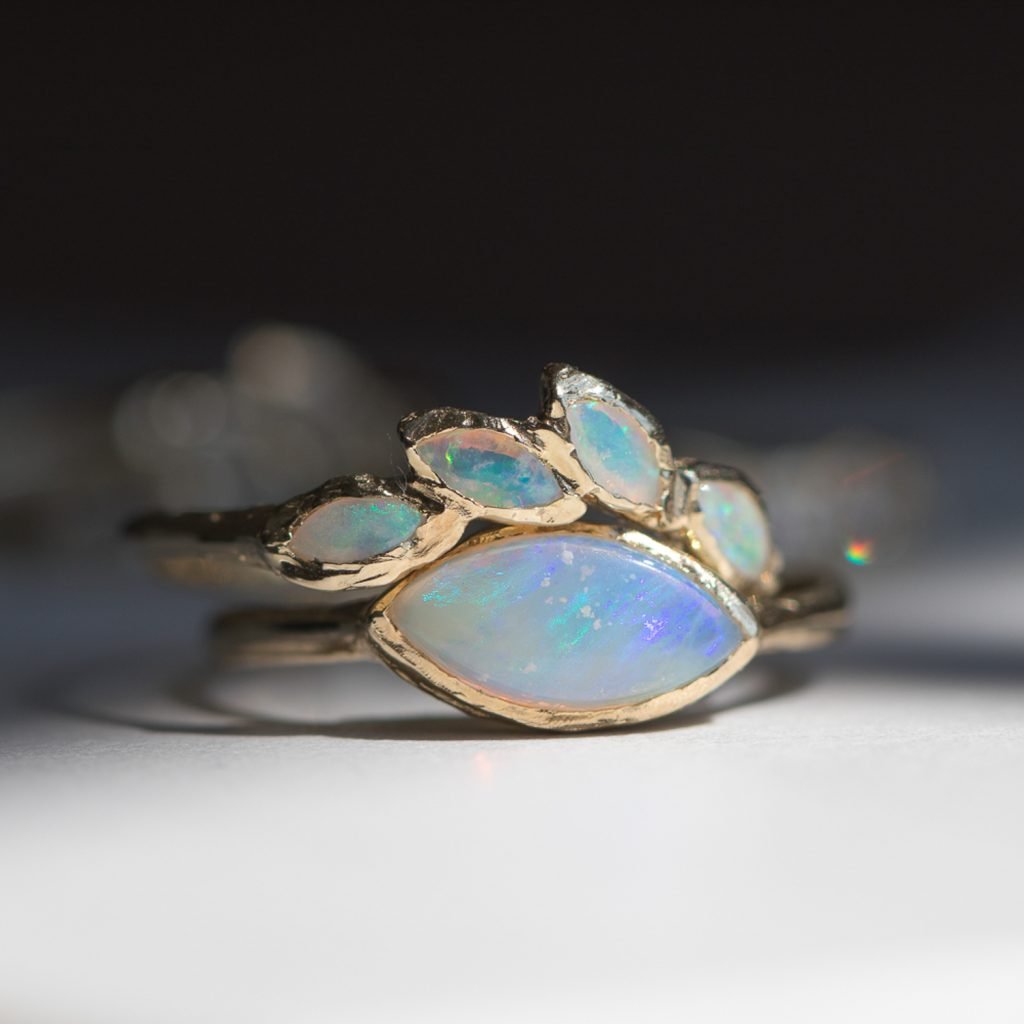 What about your upbringing? How does that influence your work of today?
I was born on the beautiful island of Guam and raised on another beautiful island of Oahu. My island upbringing has been such a huge inspiration for my jewelry designs. Islanders are born with an innate, deep appreciation for Mother Earth and I hope my hand-sculpted designs inspired by various elements of nature from tree roots to the glowing moon depict my love for her. 
What was the first piece of jewelry you ever made?
Besides the friendship bracelets I made with plastic beads for my kindergarten friends, a brooch I made for my mom in my metalsmith class when I was in high school was my first piece of jewelry. I meticulously sawed copper and sterling silver sheets and soldered them together to create an abstract hibiscus brooch for her. She still displays it on her vanity. 
What's your favorite stone? What material(s) do you like to work with most?
I have too many! Can I pick three?? Moonstone, labradorite and opal. All three remind me of the ocean at various times of the day and different depths. They're known to have magical healing energy, and if you don't believe in any of that, you can't deny how magical they look when you just stare into them. 
How would you describe your personal style? Your day-to-day jewelry style?
I have two contradicting personal styles. My island upbringing has influenced my easygoing day-to-day style, which usually involves me drying my wet hair with the car windows rolled down, minimal makeup, and flowing, comfortable clothing. The other style is very glam, influenced by the energy of the city and usually involves a fancy dress with designer heels. What these two styles have in common: jewelry, of course. I always have multiple rings and necklaces on. When I go to dinner straight from the studio, I'll put on a pair of earrings and I immediately feel fancy.
What's the last country you visited? Your favorite place to visit?
Japan. It's also my favorite place to visit and I try to go yearly. The people, the food, the culture, the art, did I mention the food? 
Best way to de-stress?
90-minute massages. And if I don't have time, a spritz of rose water spray does the trick. 
What are you listening to right now?
Oprah's Super Soul Sunday (I'm literally listening to it in the background right now while I'm answering these questions).
Favorite flower?
Lilies. My mom's named after them. 
Favorite season?
Spring — the air feels and smells fresh after the rain! 
Favorite fragrance? 
Rose.
What are your everyday handbag essentials?
Non toxic lip gloss, earrings (always ready in case I need to look dressed up) and rosewater spray. 
What accessory can you not leave your home without?
My wedding ring STACK!
Explore more of Misa's lovely, completely captivating collection, here.
Photos by Laura Barton
Similar posts