Get to know our artists: Jamie Joseph Q&A
We have admired Jamie Joseph's one-of-a-kind treasures for over 20 years now, and her work alongside head stone-cutter and husband, Jeremy Joseph, continues to amaze and surprise us. Her artistry has always been about the stones — about bringing light, shape, texture, luminosity and sheer beauty from some of the most amazing stones in the world — and turning them into exquisite, wearable works of Mother Nature. We recently caught up with Jamie from her Seattle, WA studio. Read on to learn more.
1. Can you tell us a little bit about how you and Jeremy got your start, and how your studio grew into what it is today? 
Wow, looking back twenty-nine years is pretty crazy. We started selling dancing bear earrings at Grateful Dead shows and art fairs. We were young and free, and it would be another ten years before Jeremy would become my stone cutter. I worked out of our home for many years and it wasn't until we joined forces that we moved into our present studio and began hiring other metalworkers, stone setters, and a wax carver – all artists in their own right – to help bring my designs to life. I surround myself with phenomenal artisans who love what they do, and this has been the key to our success.  As full-time treasure hunters, Jeremy and I have been seeking truly unique and amazing stones ever since we met.  The hunt for the stones has always guided our business and is definitely our greatest passion.
2. What was the first piece of jewelry you ever made?
I made many beaded necklaces when I was young. However, the first piece of jewelry I ever made metalsmithing was a silver ring with a round malachite. It was crude, with an imperfect solder line and a poorly set stone. Just goes to show that you can do anything if you work at it.
3. What is your favorite book? 
My favorite books that I always go back to are The Alchemist by Paulo Coelho and Siddhartha by Hermann Hesse.  They are search and journey books that have a new meaning every time I read them. 
4. Can you walk us through the production process, from choosing stones to final polish?
It all starts with me choosing the stone that speaks to me. A production bag is made, I write what I would like it to look like, then I give the stone to Jeremy and he cuts the stone to what IT wants to be – which is not always what I had envisioned. The finished stone goes to our production team who prep the metal parts and hand them to a jeweler. The jeweler then builds the metal portion and the stone returns to me for setting. After I set the stone it goes back to a jeweler for final metalwork. Finally the finished piece goes through quality control for inspection. The inherent heartbeat of each piece of jewelry really comes alive here, because of all the loving hands that have touched it.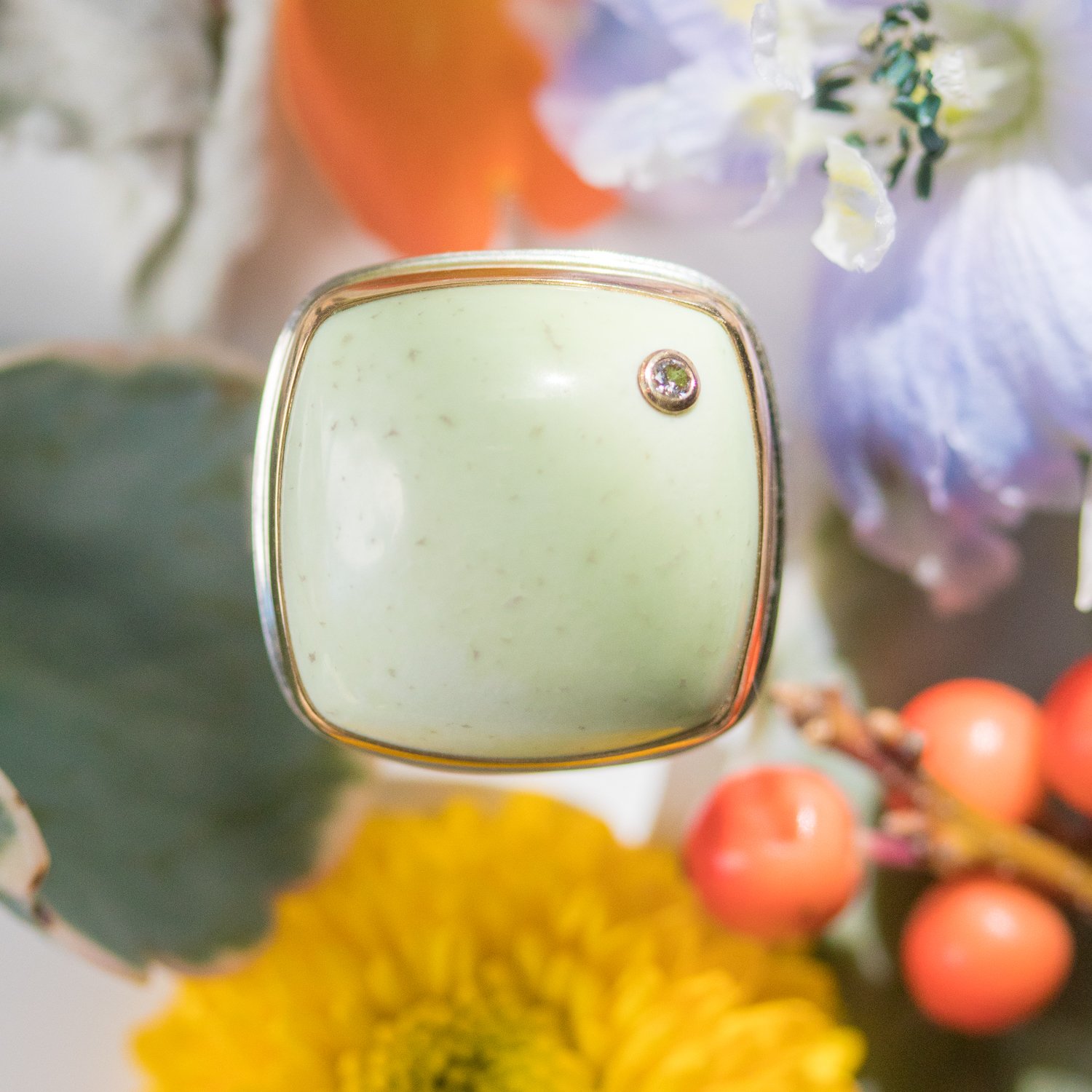 5. What stone speaks to you most?
So many stones speak to me. Most are the phenomenal gemstones that have optical properties like color change and chatoyancy (a cat's eye effect). I'm especially drawn to opals with their nebula-like colors and movement. Turquoise also has a place in my heart. It is such a spiritual stone with a rich history and I love all the various shades of blues and how it is found all over the world. I'm also drawn to what I call the "weirdo" stones. They are the most unique stones of all, that have rare attributes which make them truly one of a kind. For example, an agate with the profile of George Washington or a jasper that has an owl flying over a mountain.
6. What is the most out of the ordinary material you have ever worked with?
I made a ring for a woman who lost two beloved cats. She gave me the cats' ashes and I set a citrine stone on top of a resin piece infused with the cat's ashes.
7. What piece of jewelry do you own that is the nearest and dearest to your heart, and why?
A crystal opal necklace that I made years ago. It's been with me through many obstacles and I love wearing it close to my heart.
8. What's your day-to-day jewelry style? How many rings made the final cut to your personal collection?
I always wear a couple of layered necklaces and my ears full of gemstone studs, but If I'm going out I'll put on big colorful statement earrings. Since I still work at the bench, I find rings cumbersome, so I don't wear them at work.   But if I go out I always have rings on.  I would guess that over time 20-25 rings have made it to my personal collection.  Jeremy has been pushing me to keep more stones, so I guess my collection is growing.
9. Choosing a first Jamie Joseph ring is so fun, and it's hard to pick only one because there are so many amazing stones to choose from! What would you like customers to know as they choose their first piece? 
They should go with their heart and choose the stone that speaks the most to them. Don't buy what you think you'll wear most or what will match the most outfits. Always follow your heart and listen to the stone that speaks to you.
Explore more from Jamie Joseph's incredible collection, here.
Photos my Laura Barton
Similar posts