Meet the Ladies of NEWTWIST: Jodi, Buyer/Store Manager
Jodi Auxier has been with NEWTWIST for 15 years, and she brings so much heart, kindness, and love to our store. She manages NEWTWIST and works with Colleen to hand-select every single piece sold in-store and online.
As store manager and buyer, you bring so much heart and soul to NEWTWIST! Could you describe your NEWTWIST story, from how it all began, to present day?
I feel so lucky that I love my job so much and that I'm excited to come to work every day. I started working at NEWTWIST back in 1999. I had been managing Gap and there I met Colleen back in 1994. The first time I saw her, I remember thinking how elegant she looked, like Jackie O… she took my breath away. I got to know her over the years as a customer, learned more about NEWTWIST, and eventually applied to work there in 1999.
I started with whatever hours they could give me and worked up to managing the store within two years. In 2004, I left to open my own business. Colleen was my inspiration because she had taught me so much, and I had the desire in me to take my love of cosmetics, hair, and helping women feel confident and beautiful (which is what we do at NEWTWIST, too), and put that into a new venture. So, it was Colleen's fault that I opened my own business! It was so hard to leave, and I realized that I missed her and NEWTWIST so badly, and the industry of gift giving, because every single day there is something so heartfelt and emotional about connecting with people, so I came back to the store in 2009. Altogether, I've been a part of this business for 15 years, managing for 12 years, a buyer for 8 years, and I still love what I do so much.
What is something you always travel with?
I cannot travel without body lotion and moisturizer because I have the driest skin. They're always with me no matter where I go. I recently discovered this amazing line, Osea, and their Undaria Algae Oil, and it's so amazing. I also love Caudalíe's Beauty Elixir; it can be used as a spray to set makeup, or used later in the day to give your skin a boost and extra moisture.
Currently reading?
I just finished City of Girls by Elizabeth Gilbert, and Educated by Tara Westover. I've pre-ordered Where to Begin by Cleo Wade, author of Heart Talk, and can't wait for it to come out. It's like she wrote it for all of us with the climate of the world and how we feel hopeless…there is so much hope in this book. It's a reminder to hang in there! Heart Talk I go back to all the time when I need inspiration or to feel connected to who I am.
Do you have a morning ritual? Bedtime ritual?
In the morning, I always get up and make coffee, get back in bed with my dog Bentley, and we cuddle while I do my meditation app. He lays across my legs, I keep the window shade open, and the lights turned off. It's such a peaceful way to greet the day.
At bedtime, my sweet hubby, Dusty, and I make space to connect with each other and talk about our day. We only have one day off a week together, so it's really important to us to make time in the evenings for each other.
Currently listening to?
I shuffle through a few favorite podcasts: Armchair Expert, Goop (love it when Gwyneth hosts), and The Doctor's Pharmacy with Mark Hyman. My son Brock shared a country playlist that he and my daughter-in-law Olivia created and I've had it on repeat. I'm also loving Kacey Musgraves and Ben Platt.
What are 3 words to describe living in Eugene, OR?
Serene, lush, the highest quality of life (and the best tap water).
NEWTWIST neighborhood favorites?
Lion and Owl for the best brunch spot in town; StarCycle for the most amazing workout (and it's right across the street from NEWTWIST); Le Bar for drinks (it's my default because it's right next door to NEWTWIST so I'll meet friends there right after work, and I love being outside on their patio); Passionflower for unique flower arrangements and gifts; and Gilt and Gossamer for clothing (they are killing the fashion game). These are all locally-, female-owned and operated businesses that offer up daily inspiration and bring so much creativity and beauty to the Eugene community.
Daily beauty essentials?
If I had to have only two things in my beauty world, it would be lipstick (Nars Velvet Matte Lip Pencil in Dolce Vita or Red Square) and concealer (Nars Radiant Creamy Concealer).
How do you like to spend your weekends?
My weekends are Sunday/Monday, so Sundays are spent with hubby going on walks, working out in the yard together, or sitting outside by our fire pit, and we'll talk and just be with each other. We might also get brunch at Lion and Owl. Mondays are for a mom/sister date; we really try to get together at least once a week and spend time together. I also like to take some time for a StarCyle class on Sundays and and on Mondays, a TRX class taught by my dear friend, Linda. She and I bring in our weeks together and through it we have become the closest friends.
Describe your personal style?
I would say a feminine street style; I like to mix in bold and edgy elements. Amy Jackson, founder of Fashion Jackson, is a huge inspiration; I so relate to her whole trend. I also love Victoria Beckham's line because there's something so elegant chic about it that inspires me, and Emily Schuman, founder of Cupcakes and Cashmere.
Favorite drink?
On the weekends, Pinot Noir. Weekdays, a mocktail with coconut Lacroix, free squeezed lemon, apple cider vinegar, and crushed ice.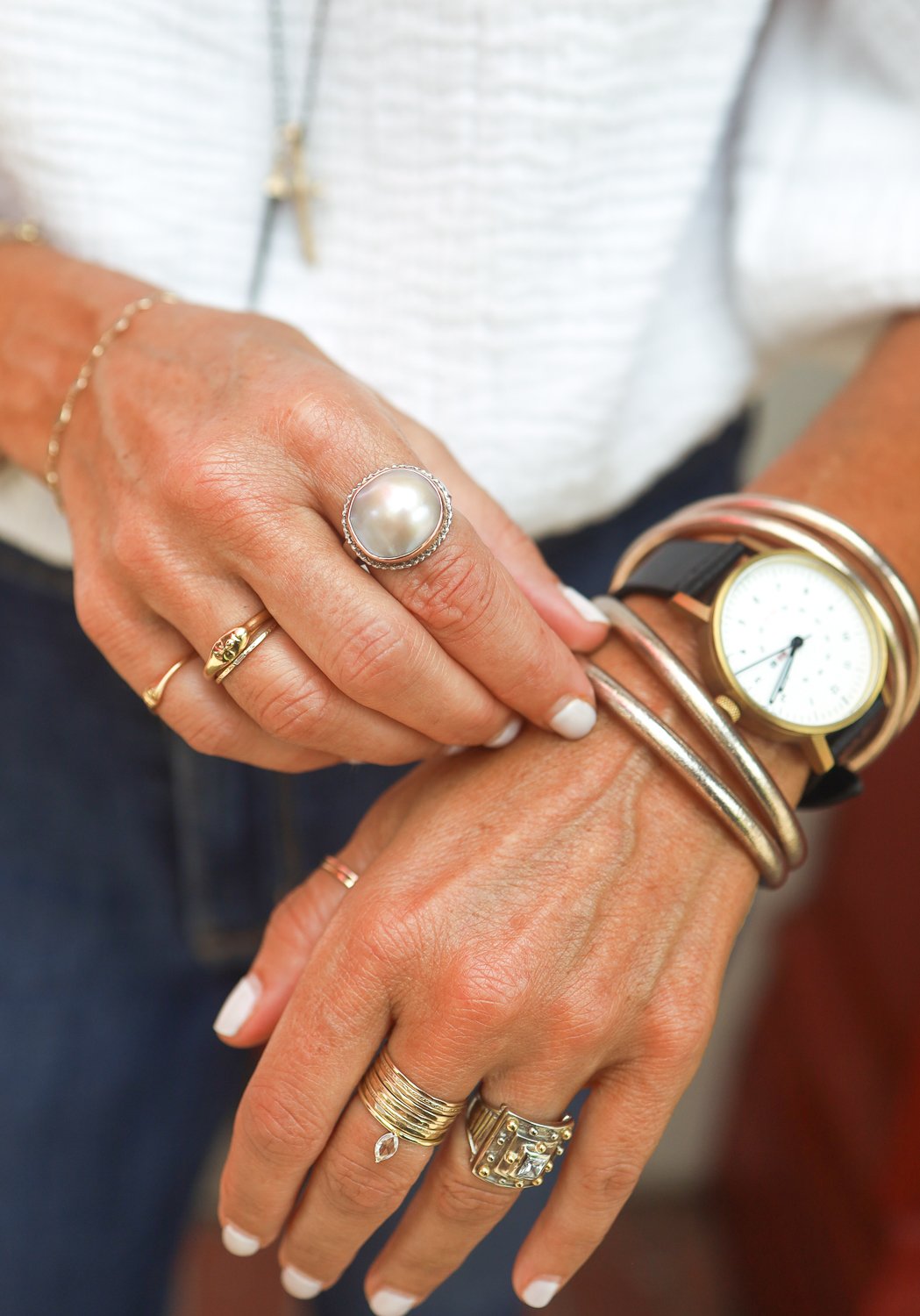 What NEWTWIST jewels are in your jewelry box?
My jewelry box is my daily jewelry look; I wear everything. My favorites are my Diana Mitchell pinky ring with a B for my boys Brock and Britton; they are always with me. I love my Hannah Blount gold little grey lady ring because to me it represents love and female strength. I also wear a ring stack on my middle finger with Melissa Joy Manning and Victoria Cunningham; I have one ring for every year that I've worked here, and I continue to add to it each year.
I wear a rose gold thumb ring from Melissa Joy Manning, and alternate between my three Jamie Joseph rings. They're all really special for different reasons. Blue obsidian reminds me of the ocean. My watermelon tourmaline is a healing stone and promotes self-love, which is a great daily reminder. A customer told me it reminded her of a butterfly wing which makes it even more special. Colleen gave me a grey pearl for Christmas, and it reminds me that she is always with me, and it's in rose gold which I love.
In my ears are Melissa Joy Manning, Victoria Cunningham, and Kaylin Hertel. I wear a Robin Haley necklace that represents connection to others, my Erica Molinari dagger and cross charms, and I always have a little ILA or Sweet Pea necklace or choker on; they're not mine but I alternate between three favorites. On my wrists I wear a Margaret Solow diamond slice bracelet, an Erica Molinari gold bracelet with a really special inscription from Herman Hesse: "If I know what love is, it is because of you."
I'm also on the BuDhaGirl bandwagon; my first set was in gold and I gave it away to my mom, sisters, and dear friend and co-owner of StarCyle, Courtney, and at Letti's wedding (Letti works with me at NEWTWIST), I gave one to her sister and her mom. I was asked to do their makeup at her wedding, and I gave a bangle to each of them to commemorate the special day. I now wear a BuDhaGirl set in their newest color, Fawn, along with my Void watch.
Go-to beauty lines?
Tarte for their eyeshadow palette, Urban Decay's anti-aging Eyeshadow Primer Potion is the best eye primer I've ever used, Kat Von D's Studded Kiss Créme Lipstick lasts forever (I love it in Cathedral), MAC for their Powder Blush in peachykeen and Extra Dimension Skinfinish highlighter in Oh Darling, Benefit for their mascara and bronzer, and Giorgio Armani makes my favorite foundation.
Favorite food?
I think I'm a fruitarian because I could live on fruit. Watermelon, pineapple, raspberries… I also love rawnola (this recipe from Feel The Lean is my favorite), coconut whipped cream, and Dusty's tempeh or tofu Reuben tacos. He just nails the taco game.
Daily jewelry style?
I always try to add in a more dramatic piece, something that's a little bit bolder like Dana Kellin earrings, a chunky cross pendant, my Void watch…and I love the layered look.
How do you choose the jewelry for the store?
When Colleen and I go on our buying trips and we meet with an artist, we always take a moment to catch up and connect with them first. Then they tell us what inspired them for their newest collection. It's always something special, like inspired by a place they visited or a personal memory, or it was designed with NEWTWIST in mind – feminine, classic pieces.
When we're buying jewelry for the store, we look for both classics and trends. I'm thinking about our customers, what they have, and what they would love; what the staff would love; what has sold; and what are the latest trends. I'll read magazines and the news to understand the latest jewelry trends…InStyle, Elle, Vanity Fair, Vogue, New York Times…I'm always looking to see what celebrities are wearing for inspiration and thinking about our local demographic in Oregon but also our online customers from all over the world. I'm so lucky that we have 58 incredible jewelry artists, so we're able to cover the ground for everyone, like something for a 15-year-old to something for a 70-year-old, and for that person who has everything.
Favorite accessory you cannot leave your home without?
Year-round it's sunglasses and lipstick…and shoes, like my Givenchy sandals, Gucci slides, or Coach heels. You can wear the most basic outfit, throw on a good shoe, and you're solid gold.
What is something that recently moved you?
There are two things:
My sister, Vicki, was super sick again and needed a blood transfusion, and it was dire. We went to see her, and when she got home from the hospital, there were a whole bunch of cards waiting for her, and she was so happy. The whole NEWTWIST staff sent her cards, and those acts of kindness mean the world. To me it's the riches of riches.
Dusty leaves me handwritten notes on my pillow or next to my bed. Last month, he wrote me a for-no-reason note that literally made me sob.
I could keep going…I get moved by sunsets. I'm a romantic.
Favorite gemstone?
Blue obsidian; it's so rare and reminds me of the sky and the ocean, my two favorite things. I'm also loving opals; I don't own any, but there is something so dreamy and captivating about them. So glad that Jamie Joseph has found so many amazing opals lately.
If you could raid one person's closet, who would it be?
My friend Linda, who owns Benessere Fitness; she has the best jackets and sweaters. One day she had on this peacock blue sweater that was all feathers and looked like a million bucks; she found it at Buffalo Exchange for $15.
What do you love most about your job at NEWTWIST?
I love working with all the ladies at NEWTWIST. They each inspire me and make me a better person. They are my closest, dearest friends and I consider them my family. A lot of them I've worked with for more than 10 years, and I am who I am because of them. Each one of them is my heart and soul.
Getting to help customers every day is so special to me. I look forward to meeting new people and talking with customers. I love connecting with them and I get so moved by what customers share with me. I think for some reason they share their most intimate secrets with me; I'm that person they can confide in.
One of my favorite things is when I get to help someone pick out a gift. The most gratifying thing in the world and why I love my job so much is helping someone find something special for someone else.
Explore more of Jodi's favorite NEWTWIST jewels here and what inspires her here.
Photos by Shoshanah Haber
Similar posts