Meet the ladies of NEWTWIST: Letti, Merchandising Manager
Letti, our Merchandising Manager, upholds the vision of our store with her beautiful and eye-catching product displays. Her creative eye continues to amaze us and we love seeing what she comes up with next.
What's your NEWTWIST story?
I've always admired NEWTWIST and loved coming in as a customer. I always felt welcome and left feeling better than when I came in. Jodi and Colleen have a way of making you feel so special, like you're a part of their family. So, when I was asked to be a part of the NEWTWIST family officially, I was thrilled. I was so nervous coming in and having never worked retail before (my background is medical), but now I feel like I've found my purpose here.
I love merchandising and décor. I've always had a passion and love for it, but never thought I'd actually be able to do it professionally. But here I am, and I love it so much. Having the freedom to come up with my own merchandising projects is so challenging but so much fun at the same time. Gaining Colleen and Jodi's trust over time has meant the world. I love creating new stories, cross-merchandising, and pairing artists together that complement each other. It's really gratifying to hear customers come in with such positive feedback and comments about the store.
Describe what you do.
I do all the merchandising for the store, from product to jewelry. I focus on telling a story through product placement and pairing jewelry artists that complement one another, and I play with color and texture to uphold the vision of the store. I'm always merchandising new pieces, and I love cross-merchandising, like mixing books, bags, candles, and soaps; I feel like the end result is beautiful when so many different things can be displayed together to create an unexpected, striking story. The creativity is the best part; I get to play with so many beautiful things and I get to bring my vision to life…things that you wouldn't necessarily put together, but the end result is just perfection.
How do approach your merchandising projects?
First it starts with the new product that comes in. I check out color, texture, and scale of it, then I think about what other products would pair nicely and compliment it, and what is going to tell a story. The new coffee table books have been great because not only does it display beautiful art with a pop of color, it gives the height that you're needing – that perfect accessory that you need to complete your vision. I added some Michael Aram, Tatine…so many artists came together to create such a beautiful table.
Since I've started working at NEWTWIST, I have become the sole merchandiser and have found that as the story evolves, my taste evolves, and me being the minimalist that I am, I'm all about less is more. Just because you have a 10ft table, you don't need to fill it; the less you put out the more that what's there can be admired. The beautiful thing about seasons changing is you get to bring in other pieces and different aesthetics to refresh a display.
Which NEWTWIST jewels do you have in your jewelry box?
My first staple is my first love: my Victoria Cunningham lariat necklace. It always reminded me of a rosary. Other staples of mine are my Victoria Cunningham golden flake necklace, my Robin Haley necklaces, and my Jamie Joseph black onyx that was a gift from my hubby Ian for my 40th birthday. I love my Polly Wales quill earrings and my Kismet love necklace. My Erica Molinari charm that says "by grace alone, by faith alone" is close to my heart because it has so much sentiment for my brother, and I have the double sided cross, which I also bought with my brother in mind. My Erica Molinari eternity band inscribed with "always in my heart" was a first anniversary gift. Each piece represents a special time in my life, and I can remember the date and who gave it to me, and that's really special to me. I love my loves.
What are your favorite places to shop?
Miss Meers for shoes and fashion. Meera, the owner, has beautiful taste and picks out something for everyone. Anthropologie because they're like a one stop shop –  something for every room and closet. Aritzia is great for solid colors that will go with any outfit, and I love Revolve because I can always find something. And I often refer to the LikeToKnowIt App; it's how I've discovered so many of my favorite pieces as well as my two favorite bloggers, Fashion Jackson and SBK Living. What I love more than anything is when I'm traveling and I stumble upon locally owned shops, like Crow's Nest in Half Moon Bay, where I find great staple pieces. Williams Sonoma for cooking utensils and my favorite kitchen towels. Restoration Hardware, Schoolhouse Electric…you can put me in a home store and I could spend the whole day there just being inspired by my surroundings.
Describe your personal style.
I can never go wrong which a great pair of jeans, a white T, and booties or white sneakers. Solid colors allow you freedom to bring in different accessories like jewelry, bags, or headbands. I am simple and minimalist, with a little pop of color or print (I'm a sucker for stripes), whether it's my shoes or a headband. I'm all about a great printed skirt with a solid tank or T, or a good white sneaker, like Adidas Stan Smiths, and a pair of Mother jeans. I love my high-waisted Mother pair that I picked up at Crow's Nest on one of my and Ian's many trips together. I'm also loving my new Silent D boots from Anthropologie; I have them in Camel and Leopard. I'm all about a great turtleneck sweater from Aritzia and my high-waisted leopard print skirt by Press from Miss Meers. I'm a big fan of the brand Rails from Miss Meers; I can always find a great jumpsuit or dress in summer, and flannels in winter. But, my favorite look of all is my Monique Lhuillier dress on my wedding day paired with my Stuart Weitzman shoes: the perfect outfit.
What inspires your jewelry style?
I'm all about keeping it simple, and I tend to gravitate toward smaller, more delicate pieces. I have on a favorite piece always; right now my favorites are my two Robin Haley necklaces, and I love pairing them with Polly Wales earrings when I want to add a little pop of color and texture to my story. I've found that when you have a base that you love, then it's all about pairing it with other pieces that complement it. I love for my pieces to tell a story, and I'm very mindful when I pair things together that they tell the same story, whether it be love, family, or faith.
Summer, Autumn, Winter, or Spring?
Summer; I love the sun, a great sundress, and a simple but beautiful sandal with a good tan.
Favorite scent?
Jo Malone, English Pear & Freesia. I discovered this perfume with one of my closest friends, Julie, and we both picked our scent that day (she chose Nectarine Blossom & Honey). English Pear has always been my tried and true scent; it's what I wore on my wedding day. I've tried other scents but keep coming back to it.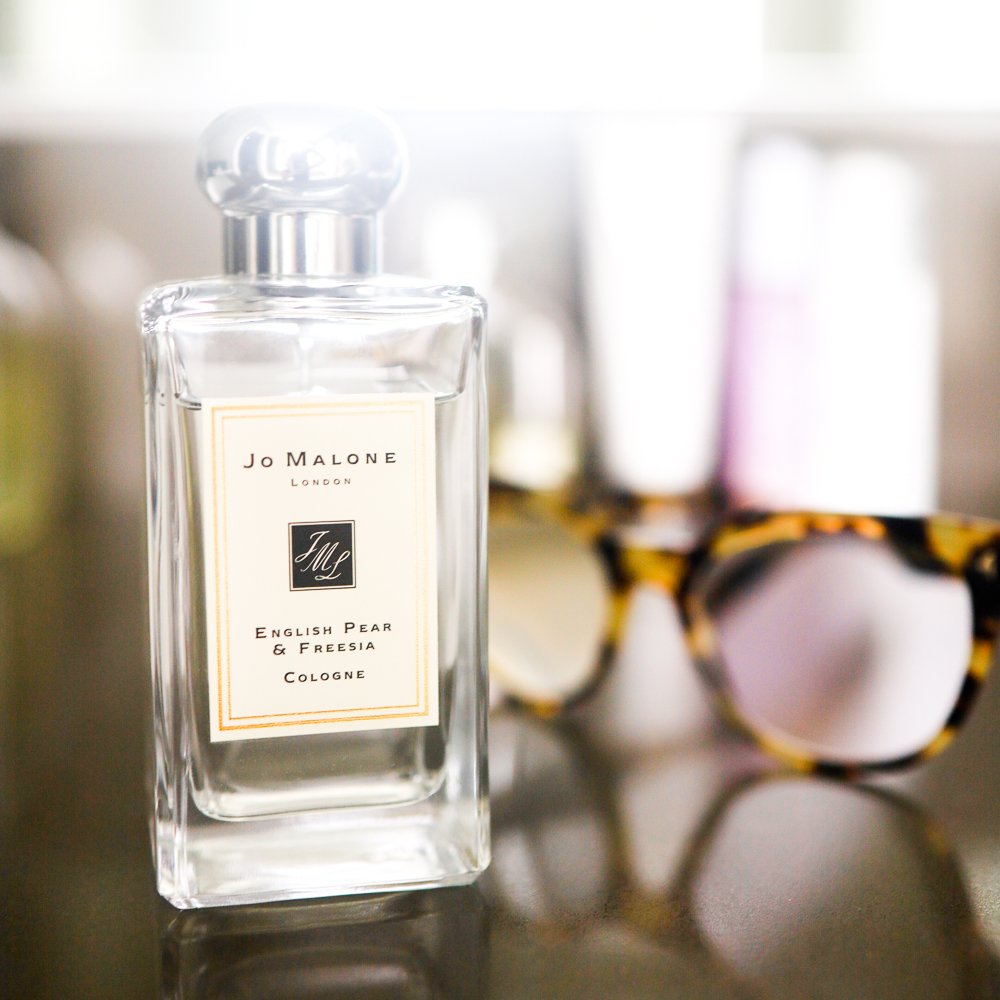 Favorite color?
Black, white, or grey. They are timeless and classic colors that will go with any space, any wardrobe, and never go out of style.
Tried-and-true beauty products?
I love Obagi's gentle cleanser, toner, and hydrate moisturizer. Moroccanoil is the only thing that tames my thick hair. I like to keep my makeup routine simple: my staples are Roller Lash Curling Mascara from Benefit, Nars' Blush in "Orgasm", Laura Mercier's Lip Gloss in "Blush", and Buxom's Powerplump Lip Balm. I'm inspired by Kasey Dixon of SBKliving's makeup staples and want to incorporate some of her favorites into my routine, like Tarte's Creaseless Concealer and Smoothie Blender Foundation Brush, and Airflash Foundation by Dior.
Go-to accessories?
My memorial bracelet in honor of my brother, my Gucci Soho disco bag (I haven't put it down since I bought it, and my daughter loved it so much that she bought the same bag), headbands, shoes (a good shoe can dress up any look), my Burberry tortoise sunglasses, and my Prada eyeglasses (also tortoise, because I'm obsessed with tortoise).
A cause that's dear to your heart?
America's Gold Star Families. Gold Star family members are those who have lost a loved one in the war/military. I am a gold star member because of the sacrifice my brother gave. PFC Rueben "Boy" Lopez was killed in action on August 11, 2011 in Afghanistan. I have a bond with all Gold Star families, whether I know them or not, because they know the pain that we've experienced. The sacrifice that each person and each family has made…there is a void that will never fill. Gold Star Families honors this sacrifice, and I am grateful for this community.
Favorite place to visit?
Cabo is where my heart is because it's where I found peace and learned it was ok to live again. It was ok to be happy. It's where Ian and I got married, and it has a very special place in my heart.
Who inspires you?
The good you see in me is a reflection of my brother. He is my daily inspiration to live for good. I admire his bravery, his courage, and his strength. He lived his life to the fullest, without regret, and with faith in his heart. He is with me always, and he continues to give me strength to live on, for one day, we will see each other again.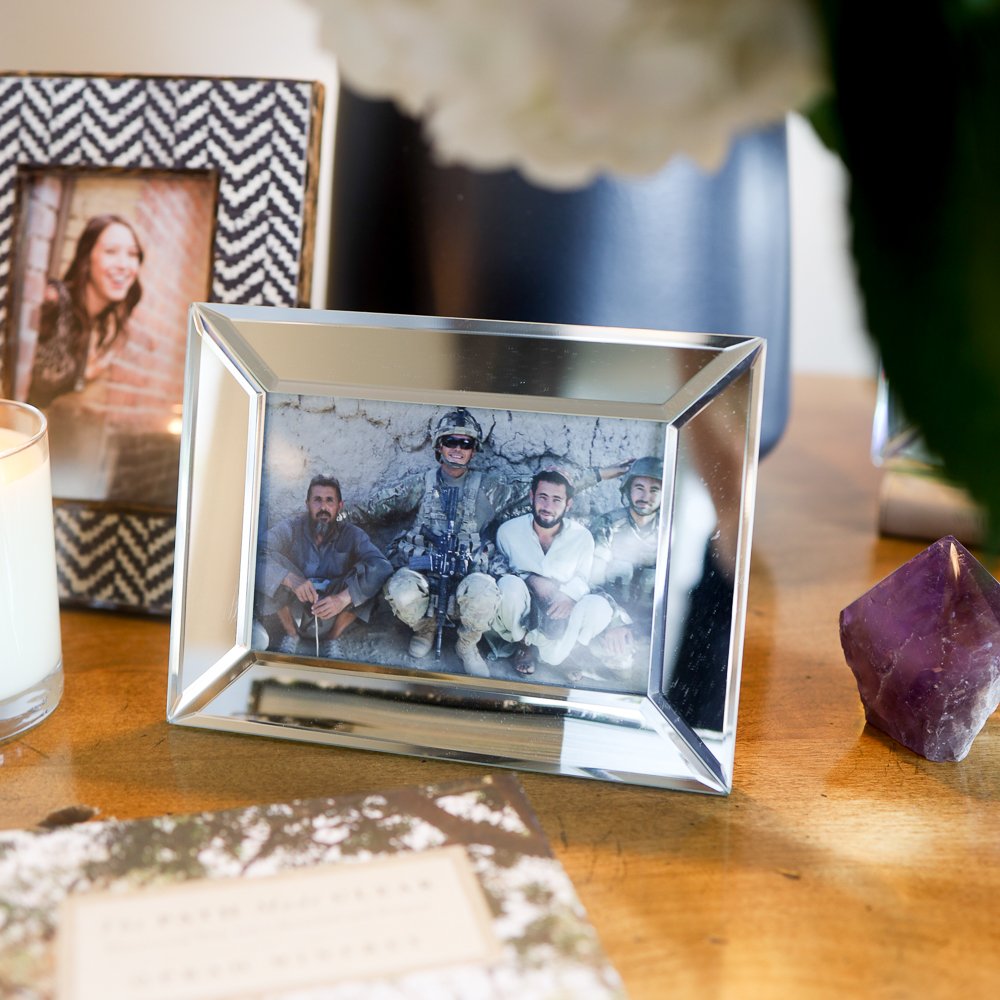 Favorite piece of jewelry?
My Suzanne Kalan earrings; they commemorate the most perfect day – my wedding day.
Dream décor?
I love black, white and grey, timeless and classic colors that will never go out of style. SBKliving captures everything that I would want and have in my house. I love black trim windows, interior and exterior, on a white house; marble countertops; and a classic subway tile. Wall sconces with shades, wooden tables with black chairs, and a black and white photo wall area are a few of my favorite things. I dream of black, white, or grey kitchen cabinets, brass or brushed gold fixtures, and neutral wall colors with the exception of using wallpaper for an accent wall with texture, pattern, and a little bit of color. I would love a herringbone floor in my future. Big fan of crown molding, coffered ceilings, exposed beams, and a mix of traditional with a little touch of modern, and a little bit farmhouse.
What advice do you have for someone decorating a new space?
First of all, I'm honored when someone wants my opinion and asks for my help. I would say start with color first: what colors are you gravitating towards? Depending on the room, what kind of vibe are you wanting to achieve? Then you can start to bring in texture and accent colors. Adding candles and fresh flowers are a great and easy way to warm a new space right up and make it your own.
Explore more of Letti's favorite NEWTWIST jewels here and what inspires her here.
Photos by Shoshanah Haber and  Sara Richardson Photography
Similar posts